Bronx Document Shredding's off site service trucks pick up your documents from your home or office and transports files to a shredding plant near you to destroy them. The process complies with all New York and federal privacy laws including FACTA. Off site shredding is popular because it is usually less expensive to destroy records at a facility than to do it at your location. It offers a high level of security because only authorized people are allowed to come in contact with the material or even be at the physical plant.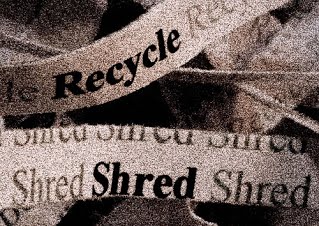 Trained security drivers transport your files in a locked truck, guarding it until it arrives at a locked New York City shredding plant. Upon the delivery of the materials, the containers are weighed. Once their weight is recorded, the boxes are lined up to begin the shredding process. The material is fed directly into the industrial shredder, which processes over 20,000 pounds per hour. A certificate of destruction is issued with the total weight, assuring that the papers were shredded.
To finish off the process, the bits and pieces of shredded paper are compacted and sent directly to a paper company where the material is turned into pulp to make new paper.

How Off Site Shredding Works in Bronx
You collect the documents that need to be shredded.
A secure truck will meet you at your location to pick up the documents.
The documents are safely transported to the shredding facility.
The paper is destroyed, compacted, and pulped down into new paper.
A certificate of destruction is provided.
Get Free, No Hassle Quotes on Off Site Shredding Services throughout the Five Boroughs of New York City
Bronx Document Shredding has a secure network of local shredders who can shred your documents efficiently at an affordable price. You receive a certificate of destruction so you know your documents have been completely destroyed. To get started on your shredding project, fill out the form to this page, or give us a call at (718) 313-0251 for free quotes.