Bronx Document Shredding
Bronx Document Shredding is dedicated to providing affordable shredding service options for businesses and homes in the Bronx and all five boroughs. We understand the requirement to protect your private information and for your organization to comply with New York and federal privacy regulations.

About Bronx Document Shredding
Bronx Document Shredding has a network of providers near you offering a variety of NYC shredding services to meet the needs of any individual or company looking to shred documents containing private information. Whether you have one box or a warehouse full of documents that need to be shredded, our partners will help you get the job done.

Protecting Against Identity Theft in The Bronx: Cases of identity theft are on the rise, and it's becoming more and more critical for businesses and individuals to take steps to protect themselves. For a business in New York City, just one data breach that contains personal information can cost thousands of dollars in lost business, destroy their reputation, and put your customers at risk
Shredding your important information is not an option. No matter what industry you are in, there are laws at the federal and New York state level that force companies to responsibly destroy sensitive information. Bronx Document Shredding's contractors abide by these rules, making us the best one-stop-shop for all your shredding needs.

Our contractor's secure paper shredding services are offered at competitive prices and they strive to go beyond your basic security needs. They offer flexible schedules and convenient shred trucks that come straight to your location. Our trucks are capable of shredding huge volumes of documents in minutes to save your company time and money.
For more information on Bronx paper shredding, request a FREE quote today, or call us at (718) 313-0251.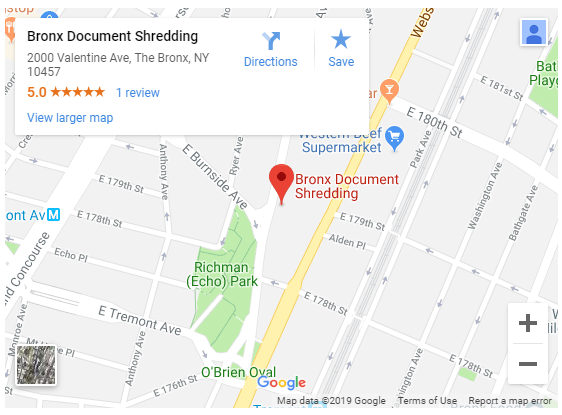 Get Free Quotes on Shredding in the Bronx
NYC Shredding Services Near Me
Service Options Available in Bronx
Bronx Document Shredding is a paper shredding company that allows you to request document shredding services in NYC based on the frequency that you need it. The two types of service schedules offered are:
Ongoing Service – Daily, weekly, and monthly scheduled NYC paper shredding service. Secure, locking shred bins are provided for free.
Purge Service – For businesses that require annual, one-time, or occasional shredding. Pricing is calculated based on quantity to shred.